Choose from two styles to power your Jet Ski, Sea-Doo or other personal watercraft lift
Built upon proven technology for years of dependable use, the ShoreStation PWC Lift is one of the best personal watercraft lifts on the market. With a number of convenient features available, the ShoreStation PWC Lift optimizes your time getting on and off the water. This personal watercraft or "Jet Ski lift" is compatible with your Sea-Doo, Waverunner or other PWC mode. Whichever brand you prefer, our lifts help you enjoy your time on the lake.
Your Memories. Crafted.
Designed to handle some of today's largest personal watercraft, our Hydraulic PWC Lift support crafts up to 1,500 lbs. Working as a Sea-Doo, Waverunner or Jet Ski lift, ShoreStation PWC Lifts get you on and off the water quickly and safely, allowing you more time to perfect your craft.
1
Solar Battery Charging System
Power the lift with clean, free solar power. The speedy 20 watt charger features a solar regulator to prevent battery drain and protect your battery from permanent damage caused by overcharging.
2
Wireless Remote
Raise and lower your ShoreStation hydraulic lift with this water-resistant, multi-functional remote. Programming and operation all in one unit!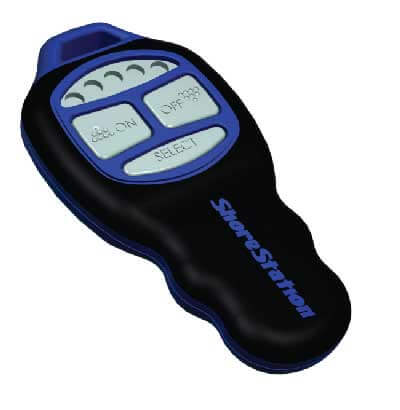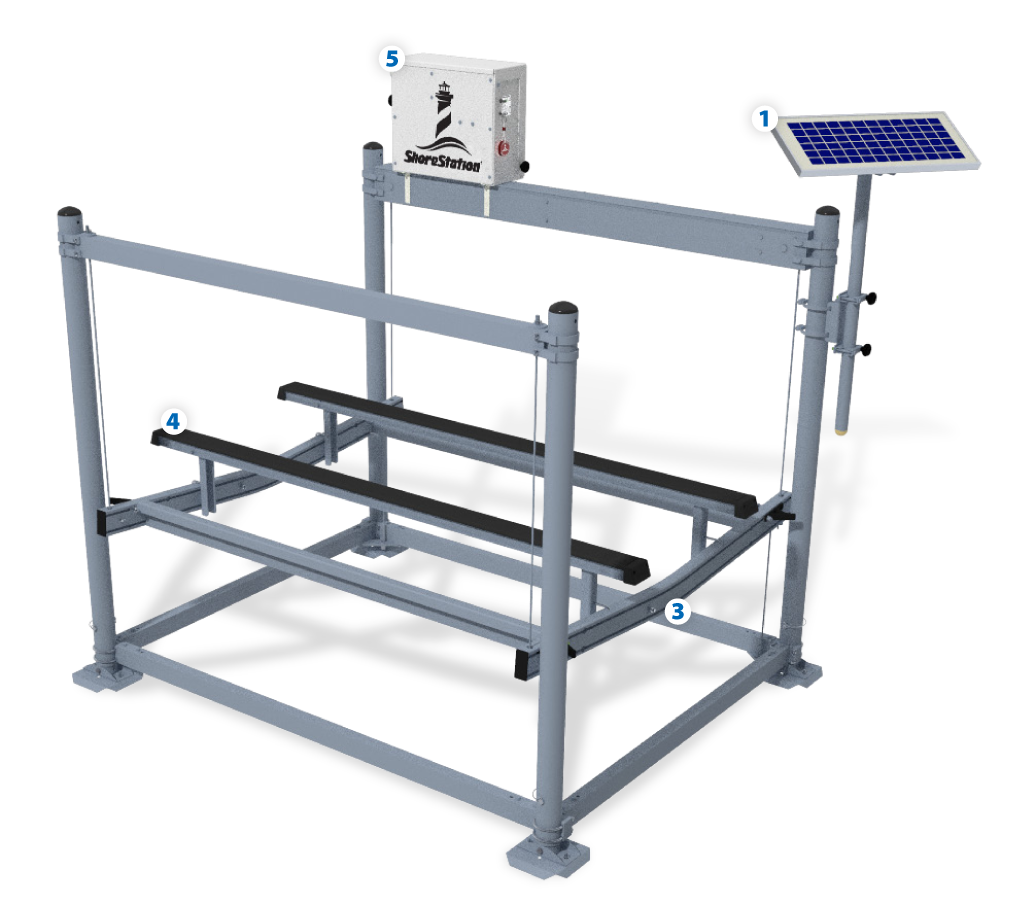 3
"V" Cradle Design
For shallow water operation.
4
UltraBunks
Pivoting maintenance free aluminum/poly bunks are mounted on sturdy support channels to shoulder the load.
5
Hydraulic Power Pack
The corrosion-free, powder-painted aluminum box protects the hydraulic pump and battery from the elements. Featuring a hinged lid for easy access, it mounts securely on the lift tube or can be placed on the dock with optional hydraulic hose extension kits.